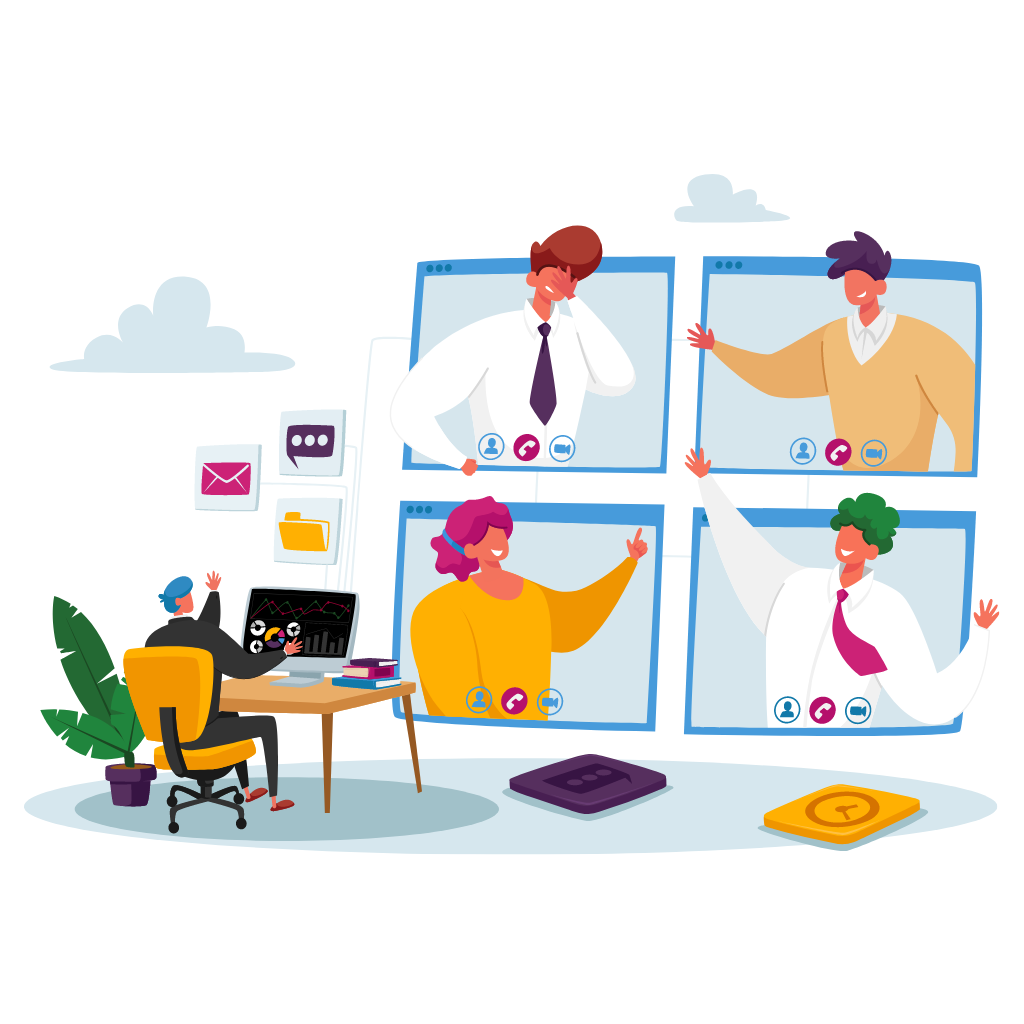 The future of work isn't coming; it's already here. For leaders, managers and HR professionals that's a clear sign to be proactive and prepare for the changing needs of the workplace.
According to research by LinkedIn Learning, 64 percent of learning and development professionals say that re-skilling their current workforce to fill skills shortage has become a priority in the post-COVID-19 world.
Let's look at how you can help your employees adapt and evolve to meet the needs of the future of work.
1. Help your employees help themselves.
What happens in the first year of hiring a new employee will define the relationship between yourself and your employee. Will they learn to rely on their abilities or will they fall into a habit of dependence?
It can be a careful balancing act between letting your employees know that you're there for them and falling into the trap of hand-holding them through every problem.
Charity Katz, a leader in training and people relations, had her revelation about self-reliance early on in her career. She was just starting out as a training manager but had come across a problem where she felt out of her depth and automatically ran to her boss with the issue. 
Her boss's response, "Did you Google it?" made her realise that she needed to help him help her. She needed to do her own research and come prepared. Katz later shared that lesson with her own employees.
"Yes, I want them to come to me. Yes I want them to feel I have an open door and that I am here to support them. I do not, however, want them to bring their garbage, drop it on my desk, and expect me to clean it up and take it out."

Charity Katz
Working in a remote-only or hybrid environment can put employees' self-reliance to the test, so now is the perfect time to figure out what you can do to boost their confidence and encourage autonomy. Try these tips: 
Get the wheels turning inside the minds of your employees by asking questions:
How did that come about?
Why do you think that is?
What do you think we should do?
Once your employees become used to these discussions, they will come to you having done the research and maybe they'll even solve the problem on their own.
When employees know that you trust them and their abilities, they will grow in confidence and performance. You can build trust with your employees by:
encouraging them to share their ideas and allowing them to follow through with them.

support but don't try to solve their problems for them.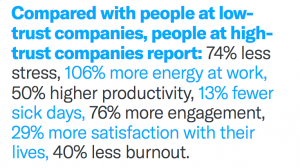 Regular Feedback

Becoming self-reliant is a learned ability and you can help your employees grow in this area by letting them know how they're doing. Tell them when they've done something well and show them how they can do better in areas where they need improvement. Actively listen and learn to nurture self-reliance in your employees
PRO TIP
If your company has information silos, your employees probably have to go through several gatekeepers to get the information they are looking for or seek out their managers to get answers to their questions. We recommend creating a shared knowledge platform to help employees find information and answers easily. This will lessen the tendency to interrupt co-workers and managers for answers and promote self-reliance. 
2. Nurture digital skills and talent.
Technology is always changing, upgrading and evolving, and most businesses have at least one foot in the digital space. To keep up with both the competition and your market's needs, your employees need to be in the know and be appropriately skilled.
In late 2021, Salesforce surveyed people's attitudes and thoughts across 19 nations on their readiness to acquire the digital skills needed to close the skills gap and succeed in the workplace. The global index score for digital readiness (the average) is 33 out of 100. Research by McKinsey reinforces this, predicting that by 2030, up to 30 to 40 percent of all workers in developed countries may need to move into new occupations or at least upgrade their skill sets significantly.
Creating a digitally savvy workforce doesn't have to mean hiring from outside your organisation. Training your staff internally saves time introducing new employees to the goals and values of your company, and is a better use of your budget.
Plan your digital future Think about which technologies can help your business become more automated and free up your employees' time for high-value tasks. Don't be scared off by the initial costs and make technology work for your business by thinking about how it can be used to generate revenue in the long run.
Set up personalised training programs – Listen to what your employees would like to do and learn so that you can prepare the right training, resources and tools for them. 
Provide new opportunities for employees – Start moving your employees into new roles while they develop and apply new skills. If they find value in their new role and position, they will not take their newly acquired skills to your competitors.
PRO TIP
It can be a bit confusing with everyone moving around and acquiring new skills in a company. Creating an employee-skill database can be a good resource to help you organise your up-skilled workforce. In one case, a financial-services firm created a database of their employees and their skills by combining their internal and LinkedIn data. They then asked the employees to look over the information to correct it if needed. Having this type of database can be valuable when matching employees with the digital goals of your organisation.
3. Create emotionally intelligent teams.
Recruiting people with high IQ can be done simply by looking at resumes or a technical skills assessment but it can be hard to read if someone is emotionally intelligent. The good news is that there are ways to improve emotional intelligence (otherwise known as emotional quotient or EQ) for existing and new employees.
What is EQ and why do we need it?
EQ involves all the skills that help us interact and communicate successfully with each other. Skills like empathy, listening and self-awareness allow us to build relationships, manage conflicts and improve decision-making. EQ ensures we are not swayed by emotions that have little to do with what we are currently doing.
"People are driving and it's frustrating, they get to work and the emotions they feel in their car influences what they do in their offices. Or they invest money based on emotions that stem from things unrelated to their investments. But our investigation reveals that if they have emotional intelligence, they are protected from these biases."

Stéphane Côté, a professor at the University of Toronto's Rotman School of Management
Not only does high EQ have a protective effect on behaviour but research also suggests that people with high EQ are more innovative and have higher job satisfaction.
How can I improve my EI?
Leading by example is an important part of improving emotional intelligence (EQ) in the workplace. Daniel Goleman, an American psychologist, highlighted five key elements of EQ that, when managed, can help leaders recognise their emotional state and that of others.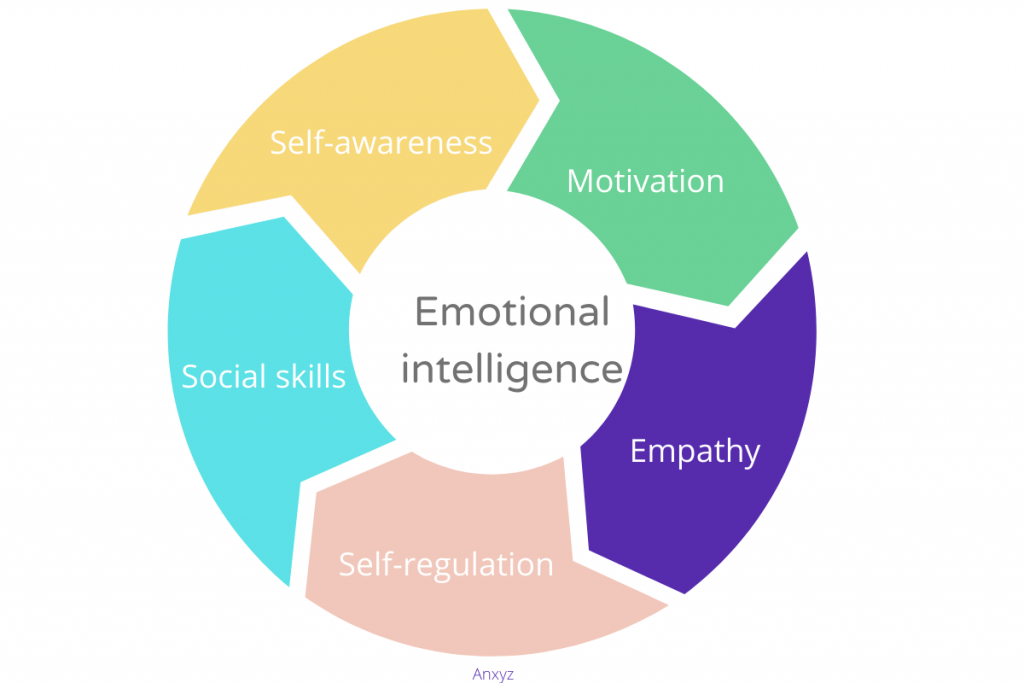 Self-awareness – honest feedback is crucial to building self-awareness but leaders can be insulated from this when their employees don't share feedback due to fear of negative consequences. So, ensure you have a safe and confidential channel to collect regular feedback from your team.
Self-regulation – giving yourself time to pause and think about your response can prevent you from acting on emotions that aren't useful to the situation.
Motivation – ask yourself 'What motivates me?' If you are driven by more than money and fame, you will be more in tune and satisfied by the work you do every day.
Empathy – also known as social awareness, is a hard one to work on even though many of us are taught as children to put ourselves in other people's shoes. Margaret Andrews, instructor of Emotional Intelligence in Leadership, advances this idea further by saying, "it's not about how you would feel in their situation, but rather, how they actually feel".
Social skills – building relationships with employees and stakeholders depends on social interactions. Recognise that each situation will demand different social skills depending on the circumstances. Over time you can build your knowledge in this area and quickly adapt from communicating with an employee to a client or stakeholder.
PRO TIP
Creating a culture of high EQ in the workplace can be difficult but it will have long-term benefits for each employee and your organisation as a whole. For example, Four Seasons hotel trains their staff with feedback tools, mindfulness exercises, coaching, and leadership development, with the aim of increasing self-awareness and empathy. Here are three simple tips to get started.
Set the norms – champion the type of communication and social interaction you want to see in your employees.
Recognition – Acknowledge and praise those employees that are getting it right.
Cognitive training – EQ is a learned skill and you can help your employees improve theirs through training sessions and exercises.
4: Build connections between your employees 
New work arrangements continue to force everyone to adapt to remote and hybrid working. Organisations around the world are dealing with an increased level of distance between employees, employers and customers. 
At a time when social interaction continues to be dominated by Zoom meetings and Teams calls, mentoring is a good way to keep people feeling connected and supported. You can explore a few different ways to do this:
Reverse mentoring – a new, younger employee mentors an older, experienced employee and updates them on the latest business and technological trends.
Career mentoring – show your investment in each employee's career advancement by sharing paths to career advancement, new projects and increased pay.
Mentoring circles – Mentoring circles can help to remove barriers, confront bias, and build more empathetic relationships across an organisation. For example, you can introduce a peer-to-peer format where employees find colleagues who have different backgrounds than themselves and share experiences in a group. It is important for underrepresented employees to feel a sense of belonging early on, especially if those connections are virtual. This also works for your diversity, equity, and inclusion (DEI) initiatives to promote inclusivity at work.
PRO TIP 
You can introduce a buddy program where a new hire is paired with a seasoned employee to informally share knowledge and build a connection with the organisation. For example, New Zealand startup Auror has created an Auror Ally program that mentors new hires in the values and culture of their workplace. Through workshops, they upskilled every member of their team so each person could play a role in promoting the culture Auror was aiming for. 
5. Prepare for flexible work
Working remotely and the hybrid workforce is here to stay, so recognising the benefits and the costs of flexible office is commonsense.
Employees expect organisations to offer options for flexibility. Both old and new employees are asking questions about what they want from employers and many are no longer ready to settle for less.
A recent Gartner poll showed that 48% of employees will likely work remotely at least part of the time after COVID-19 versus 30% before the pandemic.
Betsy Sutter, Chief People Officer of VMware says in People Matters that their workforce only comes into the office if they want to. Her company plans to rely on building a culture that can hold everyone together despite the separation.
"We need to continue establishing a strong culture that is inclusive of all communities to drive collaboration and innovation and foster a sense of belonging."
PRO TIP 
Create guidelines for flexible work that will support your employees. Gartner recommends collecting data on your employees' wellbeing, experience with technology and what hybrid work arrangements suit them. When you listen to what the needs and wants of your employees are and use that information to help your distributed workforce, you can use the flexibility to their advantage and help them stay engaged and productive.